A quick solution for your perfect smile
Teeth that are stained, crooked or worn, chipped or damaged through an accident or decay can be rejuvenated simply and quickly with porcelain veneers. Veneers are one of the most durable, aesthetic and reliable forms of dental restorations available and can last for many years. Veneers can also enhance the appearance of existing crowns and bridges without the need for anaesthetic or drilling.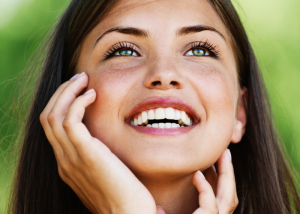 A veneer is a thin shell of a special dental material, custom-designed to cover the front of a prepared tooth to restore or improve its appearance. Made of porcelain or composite materials, veneers are then coloured to match the existing shade of the other teeth. Veneers today now be made as thin as 0.2mm.
After assessment and smile design consultations, veneers at Binley Woods Dentistry are generally fitted in two separate appointments. In the first appointment, your dentist will throughouly assess your teeth and prepare them for veneers. This involves numbing the teeth with a local anaesthetic so there is no discomfort during treatment. A small amount of the front surface of the tooth is removed to make space for your veneers, and dental impressions are taken so that the final custom-made veneers can be made. When they are ready, you'll return for a second appointment to have them fitted to create a uniform, natural and healthy-looking smile. Time and effort in the preparation stages allows the dentist to flawlessly integrate the veneers into your smile and occlusion (bite) so they feel and look completely natural.
Veneers are a minimally invasive way of covering the front of discoloured, cracked, broken or misshapen teeth. They are thin pieces of porcelain which are bonded to the enamel – similar to the way false nails cover natural nails, except much stronger and longer-lasting. Their strength comes from the laminate effect of their strong bond to enamel. If you opt for veneers treatment at Binley Woods Dentistry, you will be fully involved in the process from start to finish. Your dental impression will be sent to a skilled technician who will make your bespoke veneers by hand, following guidance from you and your Binley Woods dentist on their specific design and colour. Veneers are often used in combination with teeth whitening to provide stunning overall effects.
Want to revamp your smile with Veneers? Give us a call on 02476 540 045 or click here to book online and get a FREE CONSULTATION!