Get a beautifully straight smile with Invisalign through discreet orthodontic treatment
Want straight teeth without feeling self-conscious about your smile? Invisalign could be the answer you've been waiting for. It comes with no wires, no brackets, no braces. It is quite simply a game changer – and proof that it's never too late to have your teeth straightened. As your Invisalign provider in Coventry, Binley Woods Dentistry is delighted to be able to offer this advanced orthodontic system.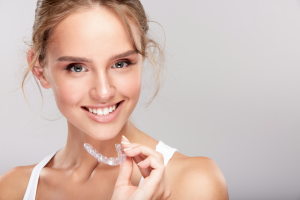 Invisalign is an extremely high-tech system that straightens your front 'smiling' teeth fast, using clear, made-to-measure retainers that sit over the top of your teeth. They're barely visible when worn, and removable when you want to eat, clean your teeth or play contact sports. Plus, this clear aligner works fast – think months not years – so you can look forward to a straight smile and renewed confidence in no time at all!
If you're considering Invisalign treatment, book an initial consultation with the team at Binley Woods Dentistry. If you're a suitable candidate for it, we'll take impressions of your teeth. Later, we will custom-craft a prescribed number of aligners for you. Each set of aligners must then be worn for approximately two-to-three weeks. After each incremental period of time, you'll need to return to us to collect the next set. Each set of aligners builds on the work the previous set has done to gently straighten your smile.
Frequently Asked Questions
Why choose Invisalign?
Because it's almost invisible and ideal for anyone with a lifestyle that wouldn't suit traditional metal braces. The clear aligners are barely noticeable in the mouth, but also removable for eating or cleaning your teeth, or for playing contact sports.
Who is suitable for Invisalign?
Invisalign is a cosmetic treatment designed for the front 'smiling' teeth – so if there are deeper problems concerning bite and function, your dentist may recommend an alternative treatment.
What does Invisalign treatment involve?
If your dentist agrees that you're suitable for Invisalign, you'll begin with a consultation during which you'll be able to see a 3D time-lapse image of your teeth before, during and after treatment. You'll need to sit for dental impressions, which will be sent to a lab so that your bespoke Invisalign retainers can be fabricated. Then you simply wear the retainers for the prescribed amount of time, returning to change them every few weeks until your treatment is complete.
How quickly can I expect results?
This is dependent on your individual case, but typical treatment times are around nine months. You'll need to have a permanent retainer fitted behind your teeth after treatment to maintain the results.