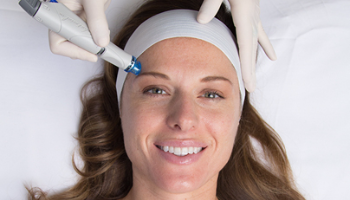 20-10-2019
HydraFacial
HydraFacial has become increasingly popular at Binley woods dentistry as part of our Facial Aesthetic services. The results have been amazing and are usually instant visible results and leaves your skin with a lovely glow. Anyone can have HydraFacial or we could do a skin-specific treatment focusing on acne, pigmentation or wrinkles/fine lines.
So what is this celebrity favorite facial all about?
HydraFacial uses advanced vortex technology so it's not just any old facial! It deeply cleanses the skin using a six-step process and effectively delivers amazing ingredients such as hyaluronic acid, zinc and magnesium peptides, red algae extract, horse chestnut. In addition, it delivers powerful antioxidants. The six-step process involves, lymphatic drainage,  exfoliation, chemical peel, extractions, adding super ingredients and led light therapy, all in one session!
Here are the results from a lovely lady I saw recently who had the full HydraFacial but was concerned with her fine lines so we added the Anti-aging protocol and used dermabuilder in her fine lines. Her results were instant! We usually recommend 6 sessions for our Anti-aging HydraFacial but saw a lovely result in one session. Happy patient!
Thank you for reading,
#coventryhygienist
BACK TO BLOG